Cole A. DeForest, Ph.D.
Dr. Cole A. DeForest is a formally-trained chemical engineer with additional expertise in material science, organic synthesis, polymer chemistry, bioengineering, biophysics, protein engineering, and photochemistry. He is currently the Weyerhaeuser Endowed Professor and Associate Professor in the Departments of Chemical Engineering and Bioengineering at the University of Washington, and a Core Faculty Member of the Institute for Stem Cell & Regenerative Medicine. His research establishes multidisciplinary methodologies to mimic, exploit, and quantify biology's 4D complexity, ultimately paving the way to new therapeutic targets and treatments of disease through a fundamentally transformed knowledge of basic cell physiology.
Cole served previously as a postdoctoral research fellow with Prof. David Tirrell in the Division of Chemistry and Chemical Engineering at the California Institute of Technology. His research in the Tirrell lab focused on the development of a novel class of engineered protein therapeutics whose delivery profile can be dictated precisely with light and offers promising new avenues in needleless-treatment of chronic illness and early-stage detection of disease. Cole obtained his Ph.D. in Chemical Engineering from the University of Colorado at Boulder in 2011. As a graduate student in Prof. Kristi Anseth's laboratory, he developed novel polymer-based hydrogel materials for use in regenerative medicine and tissue engineering applications, for which he received graduate student research awards from the Society for Biomaterials, the American Chemical Society, and the Materials Research Society. His graduate work was funded through NIH, DoEd, and Univ. of Colorado fellowships and has appeared in journals including Nature Materials, Nature Chemistry, and Angewandte Chemie. Cole earned his bachelor's degree in Chemical Engineering from Princeton University in 2006, performing computational undergraduate thesis work with Profs. Christodoulos Floudas and James Broach.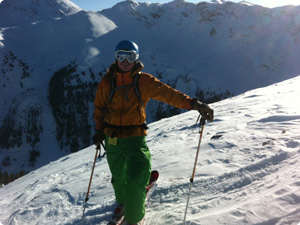 When he is not writing grants or educating scientists, he loves to ski (in bounds and off-piste), hike, bike, trail run, swim, play tennis, rock climb, cook, and spend time with his dog and his wife (not in that order). He is always up for good conversation or a spontaneous adventure.
An up-to-date list of publications can be found through the group's Google Scholar page:



Dr. DeForest's CV can be found here: (pdf, updated 10/2018)
Q&A with Prof. DeForest can be found here: (link, pdf)